Single or Multiple Dental Implants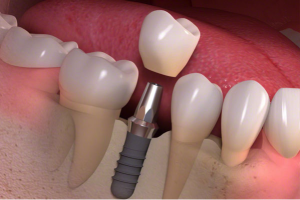 Missing teeth is one of the most common medical conditions that faces the modern society. Not only does it affect our daily diet, function and speech, it can lead to mal-adaptive biting habits that may permanently damage our teeth, jaw joint, and cause pain in the future.
A conservative and long-lasting solution to missing teeth is Dental Implant Therapy. Ask Dr. Huang or Dr. Wu to see if you're a candidate for dental implant therapy.
What is a Dental Implant?
A dental implant is a titanium fixture that is placed within the jaw bone. After it has time to integrate with our body's bone it is fused to the jaw. When integration occurs which takes a process of 3-4 month, it can support a tooth prosthetic on top of the titanium fixture.
Are Dental Implants Safe?
Pure grade titanium is absolutely safe and our body LOVES it. Bone will fuse to the roughen titanium and integrate strongly.
Does the process of getting a dental implant painful?
Absolutely not! Dental implants are placed under profound local anesthesia. When the anesthesia wears off, there is very little to no discomfort in the area.
Does the Dental implant tooth feel like a real tooth?
It does, but without the possibility of hot / cold sensitivity or tooth decay. It is still advised to brush and clean around the dental implant because gum health around dental implant is very important!
Are Dental Implants Expensive?
Over the years, engineering and techniques have evolved to have high quality dental implants and restorations for similar amount to replacing a tooth with a traditional bridge. With the added bonus of not affecting the neighbouring teeth.