All–On–X Full Mouth Implant Rehabilitation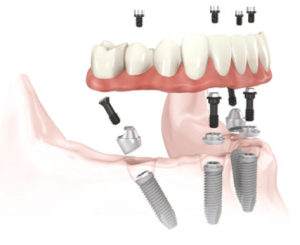 When the teeth have deteriorated to the point of no return, the dreaded "denture" comes to mind for many people. However, in this day and age we are able to offer SO MUCH MORE.
Dental implants have revolutionized how we treat terminal teeth where the goal is to restore an entire arch or mouth of teeth with something that is fixed, comfortable, aesthetic, and not removable.
The All – on – X Dental Implant therapy can be performed by placing 4-6 implants in the mouth and have a screw retained fixed temporary denture the same day the implants are placed. This therapy is not only comfortable with minimal pain after surgery, and the patient can have a fixed temporary tooth followed by a fixed permanent set of teeth!
How many implants do I need for an entire arch?
Depending on the available bone, often 4-6 implants are sufficient to support a full arch prosthesis.
How long would the temporary last?
The temporary fixed teeth are meant to last 6-8 month. More than enough time for the implants to fully integrate and ready for fabrication of permanent fixed prosthesis.
How long does this prosthesis last?
When well good care and maintenance is done, this prosthesis can last anywhere between 10-15 years. Annual check up and screw replacements are necessary in order to maintain prosthetic health, gum health and implant health.